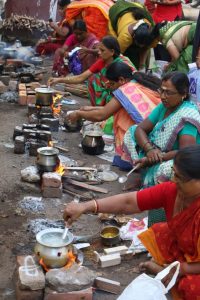 The month of Aadi signifies the beginning of festivals after a long summer hiatus.
On the first day, known as Aadi pirappu, women gather in large numbers at Amman temples to offer pongal to the deity.
At Mundagakanni Amman Temple, Mylapore, on Tuesday, July 17, several women were seen decorating the bricks with turmeric and kumkum before lighting fires to cook their pongal.
Inside the temple, devotees crowded around the sacred peepal tree (Arasa maram) to offer milk to the Snake Gods there.
The celebrations will continue throughout this month with Aadi Perukku, Aadi Amavasai and Aadi Pooram.