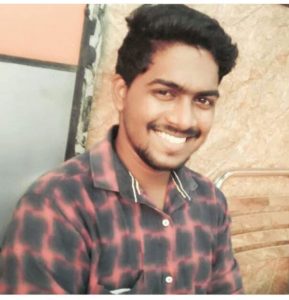 Two young men of the neighbourhood have lost their lives in the train accident that took place Tuesday morning at St Thomas Mount rail station.
One is a collegian who lives in a R. A. Puram colony. The other, Naveen is from Srinivasapuram in Foreshore Estate – he is said to have worked in a private store off the GST road. ( seen in the photo )
These and two others died when they, travelling on the footboard of a train headed towards Tambaram and was diverted to a line taken by express trains, rammed against a divider wall built between two rail lines in the station campus.
Many others were injured in what is seen as a major accident to commuters on the suburban rail lines in recent times.
Onlookers said that the victims must have been hanging out of the footboard, unaware that the train was getting on to a different platform than is the normal case, unaware of the divider that ran close to the line, and banged into the structure, fell off violently and died on the spot.
This morning ( Wednesday), Naveen's funeral took place; friends and well-wishers had gathered at his house in Srinivasapuram, at the far end of Foreshore Estate to pay their respects.