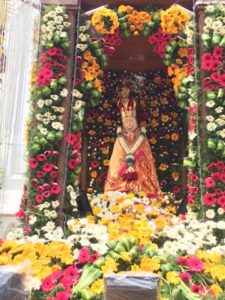 The annual feast of Our Lady of Mylapore celebrated at St Thomas Basilica in San Thome came to an end on Sunday evening with the lowering of the flag dedicated to Mary.
The grand part of this annual religious event was held on Saturday evening when the car procession was held – the image of Our Lady set in a decorated car that was taken out from nearby Dooming kuppam to the church campus, after which the Mass was held.
The decorated car with the image of Our Lady was then left in the open in the church campus to allow the church goers on Sunday to stop and say a prayer.