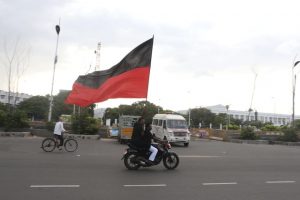 Mylapore remained quiet through the day, this Wednesday as the state and city mourned the passing of DMK leader M. Karunanidhi and his funeral was held later this evening on the far north end of the Marina.
All shops, even tea stalls were closed through the day; buses were off the roads though MRTS trains were on track, very few people ventured out and in some nooks, tea shops and pharmacies opened a small window to serve people.
Though DMK cadres were seen motoring down the main roads, some shouting slogans there were no untoward incidents.
Many DMK cadres were seen driving down the Marina road to be at the funeral of the DMK leader.
There was no big presence of police personnel too save for traffic police at road junctions.
Past 7 p.m., some tea shops and hawkers on the mada street off Sri Kapali Temple opened for business.