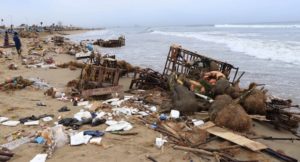 Close to 100 tons of waste was carted away in lorries from the seashore of Foreshore Estate over four days since the immersion of the images of Sri Vinayaka began in this part of the city. This was the waste that was washed up on the seashore here.
Close to 50 staff of RamKy, the private waste clearing agency worked over two shifts since Saturday morning when the first set of images were brought to this shore and immersed.
Much of the waste which was washed up on the shore included wood, flowers and foam used to build the images for Sri Vinayaka Chathurti festival.
Workers were seen at their posts on Tuesday morning to clear the last of the waste that was washed up.
S. Ravi, deputy project director of RamKy and Nehru, assistant commissioner of zone 13 of Chennai Corporation ( Adyar) oversaw the waste clearing operations.