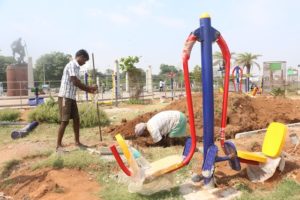 Walkers and fitness enthusiasts at the Marina beach will soon have a facility to tone their muscles and shed some weight.
A new, open-air gymnasium is being set up just behind the Gandhi statue on the Marina.
The gym will be fitted with modern but simple equipment which allows people to stretch their limbs, cycle and exercise their arms and their bodies. The sort of equipment fitted at the Nageswara Rao Park in Luz.
The past week, workers were busy at this site as they went about creating the facility and fitting the equipment.