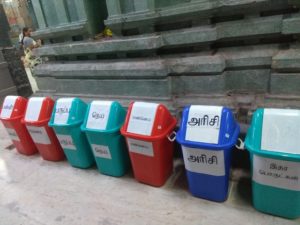 The managers at Sri Velleswarar Temple in Mylapore have addressed a messy issue here. Spillage of offerings made to the gods here have been discouraged.
The temple management has introduced a bin system from Dec 1. A row of big plastic bins, well labeled have been placed in the campus and people can drop their offerings in each of them – ghee, milk, dhal and the rest.
"Earlier people used to keep their offerings on the steps leading to each sannidhi. It would pile up and cause wastage. Now, we have bins for ghee, milk, rice, dal, curd, sandal powder, and panner water. It will make the place neat and tidy as well," says a temple trustee who did not want to mention his name.
"For those who want to specifically offer milk to a particular sannidhi, separate buckets have also been kept," he adds.
Report, photo by J. Dheepthi, trainee reporter