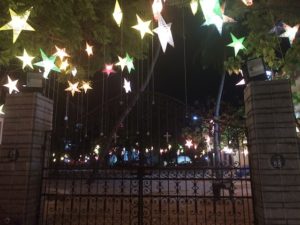 The spirit of Christmas in best felt in the San Thome area. Perhaps because there are a number of churches and a small Christian community too.
For the past week, all campuses of churches and schools were seen decorated with lit stars and illuminated buntings. From the CSI School for the Deaf end to the Cathedral junction and till Foreshore Estate end, the edges of San Thome High Road is lit up and night.
Even shops which cater to the festive season, are bright and colourful.
On the weekend, volunteers were seen building a crib on the stage in the San Thome Cathedral campus. People were decorating St Rita's Church and all the lights for Christmas had been switched on inside CSI St Thomas English Church as a prelude to the Carols Evening and Fireside Dinner on Sunday evening.
At the far end, in the zone around Our Lady of Guidance Church on Lazarus Church Road, many houses had Christmas trees illuminated and stars dangling from roofs.
And stores like Nilgiris and restaurants like Palmshore were busy into the night as people did last minute shopping and families enjoyed a slow dinner.