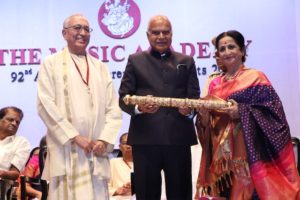 Mylapore neighbourhood residents vocalist Aruna Sairam and veena vidushi Kalyani Ganesan were decorated with the highest awards given by The Music Academy at its annual Conference and Concerts of 2018.
The event, called sadas was held on January 1 evening at the Academy.
State governor Bhanwarilal Purohit was the chief guest.
Aruna Sairam was decorated with the Sangita Kalanidhi award ( seen in photo) while Kalyani was given the TTK Award.