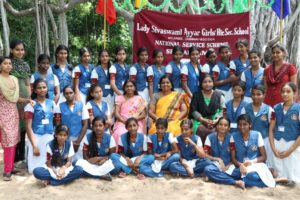 For the NSS (National Service Scheme) girls of Lady Sivaswami Ayyar Girls School, Mylapore, camping out is one of their favourite activity. They look forward to it with great anticipation every year.
This year, in mid October, the girls camped out at The Besant Theosophical Scout Camping Centre at Besant Nagar. They participated in workshops, talks, walks, a rangoli and kolu competition, a drill parade and more.
The event was inaugurated by Swami Vimurtananda Maharaj, manager, Sri Ramakrishna Math, Mylapore at the school campus.
At the valedictory function, the chief guest was Dr. D. Vijayashree Mahadevan, founder and managing trustee, Sri Matha Cancer Care, Adyar. The guests of honour were Mohamed Sitheek, district liaison officer, Central Chennai and T. Natanasabapathi, retired district liasion officer (NSS) Central Chennai and K. Lakshmipathi, joint secretary, Probus Club.
The principal of the school, Rubi Puthotta says, "26 students from class XI took part in the camp this year. This  camp, which is partly funded by the government, was first conducted in 2011. The main objective of this camp is to help the girls develop leadership qualities. After these camps, we see a significant change in the way these girls conduct themselves".
She continues, "This year, the girls participated in a 'Go Green' intitiative wherein they distributed 100 cloth bags to devotees at a temple at Thiruvanmiyur".
R. Vasuki, the physical education director at the school says, "For the entire week, the girls would get up as early as 5.30 a.m. and participate in a yoga session. Later, after marchpast practice they did a lot of field work like tree planting, cleaning up a temple nearby, interacting with the inmates of Vishranthi Home for the Aged at Palavakam and going for nature walks. In the evening, after lunch they attended workshops on paper making, self defence and child safety and guest lectures on various topics. A quiz, games and campfires were also held".
Vasuki says the girls slept in tents at the camp site.
D. Sripriya, the school's Tamil pandit was the other teacher who stayed with Vasuki and the girls for the entire week. She was also assisted by A. Geeta, a physical education teacher.
This year, a 'old' student supported the camp.
The food for the girls was sponsored by a past student, Dr. D. Vijayashree Mahadevan, says Rubi. "In addition to three meals a day, snacks were also provided for the girls in the evening. The food alone cost Rs. 85,000 this year."