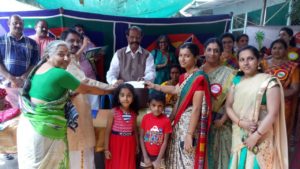 More than 200 residents of Raja Street, Mandaveli participated in the annual kolam competition and pongal celebration held at the street premises on Sunday, Jan 6. The chief guest for the event was Mylapore MLA R. Nataraj.
R. K. Ramesh, a committee member of the Raja Street Welfare Association says, "12 teams, which included 3 kids teams, took part in the kolam competition this year. Three adult teams included residents from Tondiarpet, Poonga View Road and Raja Gramini Thottam.  We gave out five prizes, the first prize was won by the team from Karpagambal Apartments. Their kolam was about a comparison of the past and present with respect to food, games and other practices".
He continues,"After the competition we had a cultural event which included dance, music, drums recital and thiruppavai chanting. A pongal pot was kept and sweet and ven pongal was distributed to all"
He says the highlight of the event was the uriyadi. "Everyone from 75 year old seniors to 7 year old children took part in this event".
The event ended with a karakattam dance by the women of the community.