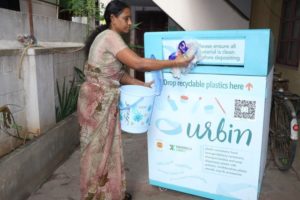 With the plastic ban set to take effect from today, several local associations are doing their best to educate residents about the need to look for alternatives.
Collaboration with NGO
The members of Shivaraman Street Residents Welfare Association in Mandaveli have collaborated with an NGO Urbin (seen in the picture) to dispose off their plastic waste.
The president of the association Velayudham Jayavel says, "Urbin, who has a unit at Puzhal, grades the plastics, converts them into pellets and then sends them to other industries, it is used to make yarn and for other energy needs. A smart bin, about five feet tall and 3 feet wide, has been placed at our street premises and the residents have agreed to drop off their plastics in this bin. Once the bin is 75% full, a message is automatically sent to the local aggregator who comes and picks it up".
In Abhiramapuram
The members of Abhiramapuram Neighbourhood Residents Association (AbhiNeRa) have been conducting several campaigns, including a week-long campaign at Abhiramapuram 4th Street a few months ago, urging shoppers not to accept plastic bags from vendors.
Sushi Nataraj, an active member of the association says, "Earlier we collected used bags from residents and dropped them off in cartons for shoppers. That encouraged the shoppers to bring their own bags. Two shops here, Ambika Appalam and Pazhamudhir Nilayam have now stopped giving plastic bags altogether. That is a welcome change".
She adds, "Several residents have been segregating the wet waste and composting it. Every Saturday morning, the dry waste is picked up by Ramky. A few of us also use www.kuppathotti.com to get rid of our dry waste".
In R. A. Puram
R. Chandrasekaran, the president-founder of R. A. Puram Residents' Association (RAPRA) says, "For the past three years, door to door collection of garbage is being practised in R. A. Puram. Garbage bins are placed only at junctions – for example at the junction of 6th Main Road and Greenways Road, 3rd Main Road East and Canal Bank Road, 2nd Cross Road and Canal Bank Road and First Cross Road and Canal Bank Road.
In August of this year, the residents and Ramky workers participated in a walk wherein banners were held and announcements were made about the need to segregate and stop plastic use.
They also went around the neighbourhood removing plastics from the roadside. A similar awareness walk around the streets of R. A. Puram will be held on Dec 30. We are going to appeal to the residents to segregate their plastics, Ramky will collect it from them once a week on Wednesdays".
Jute bags option 
At Judge Jambulingam Road, Mylapore, Suresh Ranka, the secretary of the association there says, "We have samples of jute shopping bags at our office and residents are welcome to purchase them anytime. They come in two sizes, medium and large, prized at Rs. 125 and Rs. 175 respectively. While the medium sized bag can hold upto 12 kgs, the bigger one can hold upto 20 kgs in weight".
He adds, "We have more than 250 families, 25 of whom stay at independent homes. We also have three commercial buildings at our street. We have told all of them to segregate plastics and food waste, several of the residents have been successfully doing so for quite some time now".
(( ))) TELL US YOUR STORY – If your area group is keenly working on such eco-friendly projects, mail us details -mytimesedit@gmail.com