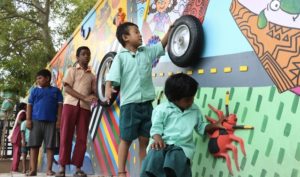 The special park which is inclusive for children with disabilities, located in San Thome has been named as Infinity Park. It provides ample facilities and fun to special children. The park, located behind the Registration Office off San Thome High Road is designed so as to let special children enjoy play equipment, walled art and audio-based playthings. The park is open to all, though it offers fun and games for special children.
City Works was in the process of building a community-led initiative group to look after the park so that it is not abused or vandalized and Appasamy Real Estates has come forward to take care of the maintenance. This project was the idea of Bangalore based NGO, Kilikili who worked with Luz-based City Works and took the idea to Chennai Corporation which got it executed under the Smart City umbrella.
In order to further its cause, they are now inviting volunteers from the community to come forward and pitch in few hours at the park to help the children around to enjoy the optimum benefits and facilities that the park has to offer.
"We need your help to facilitate inclusive play and help ensure upkeep of the play space", says Sudha, addressing the residents of San Thome. Sudha Ramamoorthy is involved with Equals, a centre focused on promoting advocacy on issues concerning persons with disabilities. "There is no time requirement Any amount of time will be welcomed", she adds. "However the requirement is higher on the weekends when we have more children visiting"
The volunteers will be given specific time slots based on their convenience and a basic orientation will be given to help them understand their role and brief them about some dos and donts.
Those interested to volunteer can contact Sudha at 9840282851.