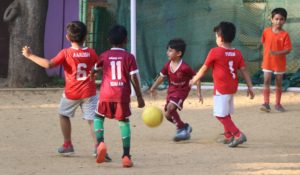 It is hot and sunny but that does not deter the spirit of these kids at Bamboola school's football camp from playing their game. Clad in shorts and t-shirts with football shoes, the little ones are all geared up and excited for their weekly football camp run by FC Madras. The coach, Joel, knows his way with them and the children seem to obey and follow his commands and do as told. He does not show mercy when it comes to training.
FC Madras is a professional football club and training academy founded in 2006. Earlier known as Mahogany Football Club, FC Madras was one of the first to provide grassroots training for kids across Chennai. Founded by Arindam Biswas, a business graduate with a passion for football, he elevated it from being just a hobby for kids to a competitive sport. Later joined by his friend Joseph, they took it to the next level in the city. Today Arindam and Joseph have been running FC Madras for over 10 year with over 500 players and over 20 centres across the city and several certified coaches. The centre at Bamboola is where the beginner's level training takes place with kids in age group of 6 to 8 years. The R. A. Puram facility has training program for children from 4 to 12 years.
"We also run a high-performance football academy at Thoraipakkam with a fully-sponsored scholarship for talented players every year", says Arindam. In addition to their training program and academy, FC Madras competes with other teams across Chennai and all over India in various regional competitions.
FC Madras is now backed by a charitable trust run by Girish Mathrubootham of Freshworks and Retd. Hon'ble Justice Padmanabhan.
FC Madras Centres at Mylapore are:
Bamboola, 73, Venkatakrishna Road, Mandaveli.
Alumni Club – Anna University, 3rd Ave Boat Club Road, R.A. Puram.
Contact: 33182266.
Website: www.fcmadras.com