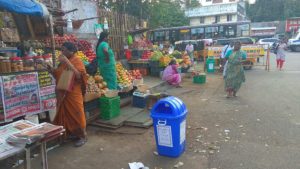 Four adjacent street hawkers – S.Jayaraman, P.Karthi, M.Arumugam and Vembili Ammal who sell tea/newspapers, fruits and kolamavu respectively have taken a step to keep the area surrounding their shops clean.
Their shops are opposite Yes Bank at North Mada Street, Mylapore. They have jointly bought two big bins priced at Rs 1200 each.
"This area used to be a dump yard. People were dumping empty water bottles, juice and food packets as they went after shopping," says S. Jayaraman, who sells tea and newspapers.
He says many don't use or see the small bins kept at the corner. "Hence, we took this initiative to keep the big bins a little ahead on the road after taking permission from Corporation officials," said one hawker.
"It's been two weeks since we kept the bins here. So far people are dropping the waste in them. Hope it continues," he adds.