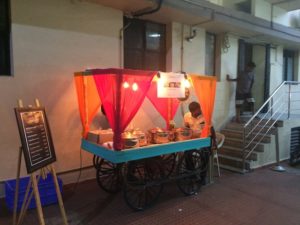 Restaurants keep opening often, and some close too as quickly in the Mylapore area. One new food place is called The Spoonfeed Restaurant; it has a great location. On the terrace of the Rasika Ranjani Sabha complex on Sundareswarar Street, Mylapore, the streets that runs off East Mada Street.
The place is over a fortnight hold and Sudharma Vaidyanathan, a talented young Bharatanatyam dancer who promotes this place along with her parents, says those who have been up there and dined like the ambience a lot.
To promote the place, Spoonfeed has a food cart that is sometimes stationed outside the sabha complex or perambulates a bit. Last weekend, it was in the campus of Bhavans, serving artistes and guests at the festival to commemorate guru K. J, Sarasa.
Tastefully decorated and offering a menu of short eats, it got most people's attention and did some cool business too.