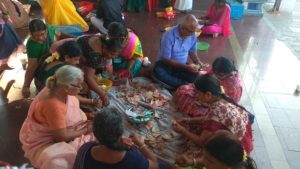 Preparations for the annual Panguni Festival have started at Sri Kapaleeswarar Temple.
On Feb 27, the contract workers were erecting pandals in and around the temple.
Money from the temple hundials was counted today at the navaratri mandapam. Jewels were also weighed.
Around 120 temple volunteers did the counting. Later, bank officials re-counted the same.
"All the money will be kept in the bank," said D.Kaveri, the Executive officer of the temple.
Supervision officer from HR&CE head office noted all the details. The temple Executive officer D. Kaveri was monitoring the process. The counting was also recorded on camera.
Temple barricades have been put at Kapaleeswarar Sannidhi Street opposite to rajagopuram. A police booth is also under construction on this street.