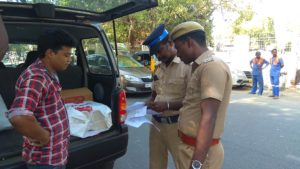 On March 27 evening, the police and Static surveillance team from the Election commission of India were checking all the vehicles at Kamarajar Salai in R. A. Puram.
All the cars were stopped near the Aavin booth and thoroughly checked.
"Since the election is nearing, more cases involving unaccountable cash/Jewellary flow will come out. Till now we have not found any such case, " says J. C. Bhaskaran, a police officer from Triplicane.
"Vehicle checking is simultaneously going on at all the constituencies, " he says.