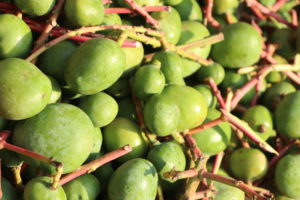 The vadu mangas have now arrived at many pavement shops in South Mada Street, Mylapore. "But, the business is dull," says P. Kabali, a street hawker selling vadu mangas at this Street.
He says, "Since the cost is high people who were buying 10 kilos have now reduced to 5 kilos."
The popular Madurai kambu vadu (vadu manga with stem) is priced in the range of Rs. 240 to 280 per kilo, which is almost double the price of last year.
"This year due to the lack of rainfall the harvest has been low. The rate at which we are buying is Rs 220. And then we have to pay for transport too. Hence, I'm selling at Rs. 240, so that I will get Rs.10 as profit," says S. Kavita, a street hawker
"Many times, we are giving even without any profit as the mangoes are not selling otherwise," she says.
"The vadu mangas will be available for sale till this month only. After that, the supply is unpredictable," she adds.