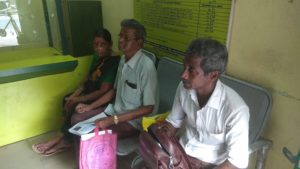 The e-Seva centers in Mylapore have become busy spots since people started approaching them for getting certificates required for applying to the RTE (Right to Education) admissions in schools. But, since the web-servers of Tamil Nadu E-Seva portal are slow, people are facing a lot of difficulties.
G.Koothan, a senior resident of Narayana Swamy Thotam, Mylapore arrived at the e-Seva center in Kamarajar Salai, R.A.Puram at 11 a.m. on April 23. Even after five hours, the staff at the center was not able to complete his service.
He was waiting here with his wife till 4 p.m., "We want to get income certificate to avail RTE admission for our daughter. For that, we have been trying since this morning, till now we have not been able to get the service," he says.
"Usually the portal becomes slow during this time of the year since many people access the server at the same time. But this year, our server has become very slow. A service which use to take 10 minutes is now taking more than 45 minutes to be completed. And the services portal is not opening. It's buffering all the time," says the staff working at the e-Seva center.
"We are old. We cannot stand in queues at the Taluk office. That's why we are approaching E-Seva centers. It is very disappointing when the services take so much time here also," says Koothan.
"Similar is the situation of all the other E-Seva centers," says the staff here.
Another customer, who was here to get the income certificate says, "I stay near the Lighthouse. The e-Seva center was not working properly there. Hence, I came here only to see the same situation again. I'm running around all the e-Seva centers since 10 a.m., but still, my service is pending."
"And when our services get delayed the staff is asking us to approach the Mylapore Taluk office on Greenways Road. The officers at the Taluk office are turning us away by asking us to go to e-Seva centers. Many who came to avail the services have got frustrated and gone home," he says.
The staff at the e-Seva center, R.A.Puram say they are helpless. They have other issues too. "From the past few months, we are not receiving the necessary materials like papers and A4 sheets. And the eWallet, which we use for issuing certificates is not recharged promptly. We have to be continuously behind our higher officials for getting it recharged."
"It has also been very difficult to receive our salary from the past two months," she says.
Recently, the e-Seva center at C.P. Ramaswamy Road, Alwarpet was closed. A corporation official of ward 124 said, "There was no staff coming in the office. Hence, they closed it a few weeks back. But many people who are unaware of this come here and go back with disappointment."