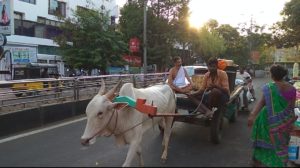 Sri Vedanta Desikar Devastanam, Mylapore, that is known for using only well water for all its rituals has started hiring a bullock cart to fetch water from nearby wells.
Since the past few weeks, the priests of the temple are traveling on a bullock cart with all the necessary brass vessels to fetch water from the well at Srirangam Srimath Andavan Ashramam, Alwarpet.
"There is less than one-foot water in the recently constructed well and all the other wells in our temple have also dried up. Hence, we are borrowing water from this ashramam and from one of our devotee's house at St.Mary's Road," says A.V. Mukundan, maniyakar of the temple.
The temple has hired the bullock cart from a fruit vendor. And whenever the need arises, the priests start the early morning trip to the ashramam.
"According to our tradition, we are not supposed to use motorized vehicles/ vehicles having iron metal attached to them. Wood is preferred. Also, the bullock cart has been a transit method from the ancient days. So we are using it," he says.

"It is very difficult for us. We have to finish this work and go back immediately to start the rituals at the temple," he adds.
The temple is also planning to construct new wells, but the priests say there is no respite until it rains.