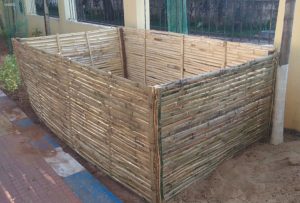 In an effort to implement the idea of zero waste parks, the Chennai Corporation is erecting compost structures at the public parks in Mylapore.
Now, in every park, two kinds of composting structures are seen. One is a box-like structure made of bamboo – for composting the dried leaves of the park, and other is the plastic Sintex ( inserted partly underground) for composting biodegradable waste (vegetable, fruit waste).
"The community living near the parks can use the facility for composting the biodegradable waste generated at their homes. We are extending this facility to all the parks in the city as well," says Veera Raghavan, Assistant Engineer (ward 173), Chennai Corporation.
At Nageshwara Rao Park in Luz, the composting process has already started. A deep pit has been made below the bamboo bin. The workers who maintain the park are now filling the bin with dried leaves collected from the park.
"We sprinkle a little water over the leaves. After some time, we spray cow dung water and leave it for composting," says a civic contract worker.
"The manure generated from both the compost pits will be used for the plants inside the park," he says.
Similar composting structures are built in the parks at Krishnapuri in R. A. Puram (shown in picture), Lazarus Church Road and in MRC Nagar.
The composting started at Krishnapuri Park in early May. H. K. Lakshman Rao, a resident of Krishnapuri says he has been constantly asking the Corporation officials to start composting inside the parks.
He says, "Its a good initiative taken by the Corporation. Earlier, the conservancy workers used to make three rounds for collecting the waste in the Krishnapuri park alone. Now they are making only one trip of our area."