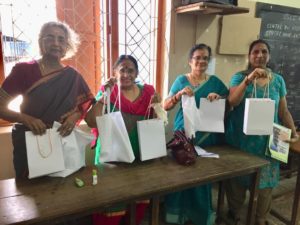 It is often said, better to teach a man to fish than to give him a fish everyday. And that is exactly what members of R. A. Puram Resident's Association (RAPRA) set out to achieve.
Their quarterly meet held recently was very informative and useful. The event started off with a listing of various activities organised by the association. Later the road map to source segregation of garbage was outlined. A presentation was also given on the various avenues of investment available to residents.
But what stood out was the workshop on paper and cloth bag making. About 20 women were taught the art of bag making by Shyamala Devi. They walked out of the meeting proudly, waving their bags and having learnt a skill that they could teach several others.