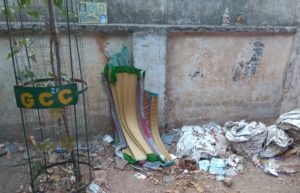 A few months ago, GCC planted native varieties of plants along various streets of Mylapore.
But, the plants at the Thiru-Vi-Ka 1st lane off R. H. Road (opposite to Vidya Mandir School gate) look dry and are not maintained properly.
Construction debris and garbage is seen around the plants here.
V. S. Subramaniam, a resident of this lane says he waters the plants near his residence.
He says, "Since abandoned cars and bikes are parked here all the time, miscreants use this place for drinking alcohol. They also urinate in the area near the plants."
"Due to this the conservancy workers also never clean this side of the lane," he says.