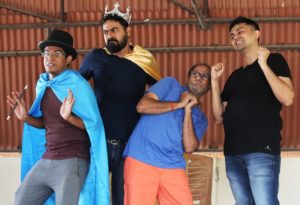 'Total Moonsense' is a play inspired by James Thurber's classic 'Many Moons' but has been written with an Indian-ness to it – of doting kings and a lovable princess, bumbling jesters and a bumbling prime minister. All of them go to make this comedy of errors.
'Total Moonsense' is to be staged on May 25 ( Saturday) at CurioPlay, Anandha Road, Alwarpet. There are two shows – at 5 pm and 7 pm.
This play is a production of theatre group 'Masquerade' which is in its 25th year and is managed by theatreperson Krishna Kumar. And it is targeted at children and teens.
In the cast: Abhishek Ramabhadran, Aravind Subramanian, Ashvi K S, Krishna Kumar S, Pranav
Diwakar, Priyanka Sankaran, Shrivatz Agharam, Shubh Mukherjee, Utshav Raj and Varsha
Varadarajan. Scripted by Krishna Kumar, directed by Shrivatz Agharam
Krishnakumar says his theatre group plans to perform regularly for children through his 'The Bear and Beanbag Children's Theatre project, originally kickstarted in
2010.
He says, "At a time when family-inclusive performances and performances for children are much
needed to maintain a sense of social space, we feel this is the right time to reinvigorate the
atmosphere."
Tickets are priced at Rs. 200 and are available through TOWNSCRIPT.COM
For further details, call 9884029850.
Tickets for TOTAL MOONSENSE,