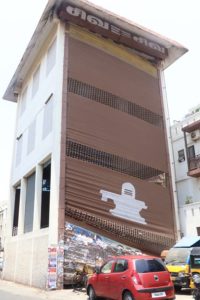 The north facing metal shutter of Sri Kapali Temple's ther enclosure came apart a couple of weeks ago. Attempts were made by temple authorities and devotees to get it repaired but that did not work. A new shutter will now be fixed there.
D. Kaveri, the executive officer of the temple, says, "Last year, we changed the motor used for lowering or raising the shutter and regular maintenance has been happening under an annual maintenance contract. In spite of this, the metal shutter got stuck. We are now planning to remove the entire frame and fix a new one in place of that".
She continues, "We have called for quotations and we are planning to change the design. Instead of installing a metal shutter for the entire length of the shed, we plan to install a door for one half and a metal shutter for the other half".
It will take atleast one week for the work to be completed, she says.