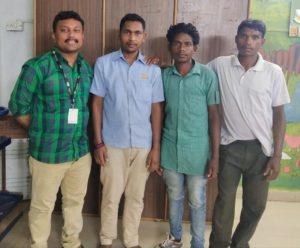 The team at The Banyan shelter in San Thome was in for a pleasant surprise when social media helped it to reunite one of their inmates Jijhur Majhi with his family and friends in Odisha.
"23-year-old Sonu (Jijhur's pet name) belonging to a tribal community of Odisha came to Tamil Nadu with his wife a few months ago and they were working for some contract jobs here in Chennai. Later when Sonu started using some form of drugs and got addicted to it; his wife left him and he became homeless," says Adarsh Babu, co-ordinator of the Banyan Shelter.
Banyan's volunteers rescued him in December 2018 as was aggressive and attempted to harm other people.
After admitting Sonu at the San Thome shelter the team provided him medical treatment. Slowly, the man began to relate to his family back home.
But Banyan's team couldn't establish contact.
Says Adarsh, "All phone numbers that Sonu gave went unanswered. As a last resort, since Sonu said that he had a Facebook account, we tried contacting his friends through it. And to our surprise, his friends responded."
A few weeks ago, Sonu reunited with his brother-in-law and friends at the San Thome shelter and has now left to Mayurbanj district (his native place) in Odisha. Sonu has also overcome his addiction.
The Banyan is a non-governmental organisation with the space in San Thome that offers a range of comprehensive mental health solutions for men and women who are either homeless or living in a state of abject poverty. It is operated in collaboration with Chennai Corporation under the National Urban Livelihoods Mission (NULM).