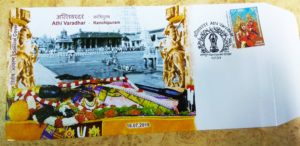 To commemorate the ongoing Athi Varadar festival at Kanchipuram the Tamil Nadu Postal Circle has released special a Athi Varadar cover.
Copies of this theme postal cover, a collector's item especially for philatelists are now available at Mylapore Head Post Office off Kutchery Road.
People can buy them at the postage stamp counter by paying Rs.20 per cover.
The cover also has a note on the significance of the festival. The note said – Lord Athi Varadhar rises from his abode, the Anantha Saras temple tank at Sri Devaraja Swamy Temple in Kanchipuram, Tamil Nadu once in every 40 years and gives darshan to the devotees for 48 days. The last occasion was in the year 1979.