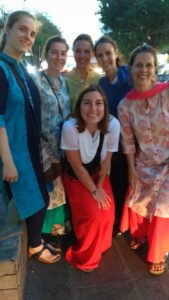 This past week on Wednesday six college students – Nikte, Franne, Theresa, Therese, Pauline and Ellen from Belgium 's KU Leuven University visited Sri Kapali Temple, Ramakrishna Math and San Thome Cathedral church as a part of their social study project.
The girls wore Indian ethnic wear and also had vibhuthi on their foreheads, "We want to integrate with people and learn the culture of Tamil Nadu," said one of them.
For the past three days, they said, they were staying in Mylapore. "Everyone is very friendly and willing to share stories of their culture with us," said Theresa.
For their social project the girls say they have collaborated with Paadhai, an NGO (in Belgium and India) based in Valasaravakkam, Chennai that empowers underprivileged children in India to grow up to be capable adults, so that they can have more opportunities for a dignified future.