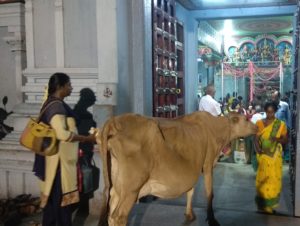 On July 5, a cow stood at the entrance of Mudakakanni Amman Temple, Mylapore and looked for food.
Some temple-goers voluntarily offered bananas to the cow.
After a while, the cow went ahead and directly picked up bananas from archanai plates that the devotees were carrying after pooja.
Devotees were surprised when it started eating sakkarai pongal from a woman's hand, who had it on a banana leaf.
"The cow comes from the nearby cow shed. We regularly offer banana and agathi kerai for the cows coming here," said Amsa, a temple staff.
The owners of the cattle don't seem to feed them and leave them roaming on the streets, she said. And the Chennai Corporation doesn't seem to take any action against roaming cattle.