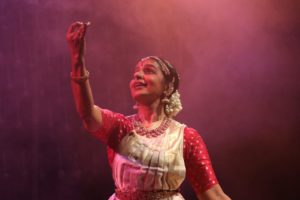 The classical dance community of the city and dance students of dancer and guru Srekala Bharath gathered at Narada Gana Sabha auditorium in Alwarpet on Saturday evening for a grand celebration of a milestone – Srekala's 50 years in Bharatanatyam and 20 years of her dance academy called Thejas School of Performing Arts.
In a series of snappy dance pieces, Srekala's students – from the tiny-tots to the teens and the young ones – showcased their gurus skills and creativity, with Srekala herself performing in some of them.
The evening started with a fusion music show by a band of youths and flowed into a recital by a group of young dancers who are wellknown today – these are dancers of gurus based in the city and their piece was a warm offering to mark Srekala's milestone in her career.
At the formal event, a coffee table booked called Yatra was released. The guests were former India cricketer K. Srikanth, Srekala's briother, dance guru Sudharani Ragupathy, Dr. Capt. B. Biswas Kumar, a wellknown neurologist and N. Gopalaswami, former chief election commissioner.
It was an occasion to rewind to Srekala's fascinating career.
From the days her mother admitted her to dance classes at the wellknown guru K J Sarasa's place on Bheemana Street near her house in Seethammal Colony in Alwarpet, to her blossoming, to the tragic accident that laid her low, her fightback, her international tours and the academy which now trains students across the world.