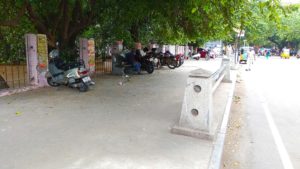 On July 9, Chennai Corporation officials of ward 123 cleared encroachments on Luz Church Road, Mylapore.
The officials alongside local police officers used their workers to clear the roadside shops along the entire stretch. The carts were pulled down by JCBs and were taken away in lorries. The picture shows the pavement after encroachments were cleared.
Some people here said that while the removal was welcome the manner in which workers dumped coconuts, fruits and foodstuff sold by hawkers on the pavement was not humane.
However, a few shops like the Alwar's book shop near the Mylapore club and those that were little away from Nageshwara Rao park were left untouched.
Arul Maran, AE of ward 123 says, "There were a lot of complaints regarding encroachments on that road. Hence we cleared them today. We are planning to periodically conduct such drives on this road."