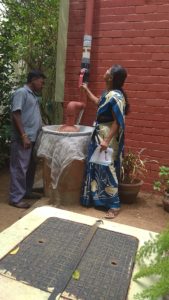 The Chennai Corporation officials have started inspecting the rain water harvesting (RWH) structures at all the independent houses and apartment complexes in Mylapore.
On July 2, a group of officials from ward 173 of Chennai Corporation inspected the rain water harvesting structures at R. K. Nagar.
The group included officials from Chennai Corporation, Metro Water and revenue department of ward 173.
"We plan to check all the RWH structures in our ward before the northeast monsoon sets in. The idea is to tap all the run off water by setting up proper RWH structures, percolating pits and recharge wells," says Veera Raghavan, AE of ward 173.
At every house after inspecting the structures the officials suggested modifications/improvements in the existing RWH system. The residents who did not have RWH structures were asked to construct one soon.