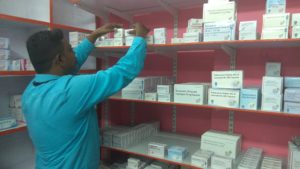 Makkal Marundhagam, a generic medical shop that sells Allopathic medicines, will be opened at Mari Chetty Street, Mandaveli on July 11 morning.
The small shop spread across 150 sq ft is located on this narrow street off Mari Street opposite Mandaveli Post Office. (under construction)
The owners – Prawin, Yuvaraj and Saravanan – are opening the store under the franchise of Pradhan Mantri Bharatiya Jan Aushadhi Kendra. They have been running a chain of these stores in various places across the Chennai city.
The Pradhan Mantri Bharatiya Jan Aushadhi Kendra has been launched under the scheme of Pradhan Mantri Bhartiya Janaushadhi Pariyojana (PMBJP) by Prime Minister Narendra Modi, in 2014 to provide generic drugs, at lesser prices compared to the expensive branded drugs.
The Department of Pharmaceuticals has taken the initiative to provide quality medicines through special kendras known as Pradhan Mantri Bhartiya Jan Aushadhi Kendras. BPPI (Bureau of Pharma Public Sector Undertakings of India) and CPSUs (Community and Public Sector Unions) have been working together since its launch to procure, supply, and market these drugs through the Jan Aushadhi Kendras.
The medicines at this shop are named with their generic names (chemical names) and are sold at a very low price. A strip (15 tabs) of paracetamol 650 mg that is priced at around Rs 40 at the local chemist shop costs only Rs 9 here. Spray used for sprains that usually costs around Rs 140 is available at Rs 40. And a set of 10 calcium and iron tablets are priced at Rs. 9 and Rs 19 respectively.
"Usually, doctors prescribe a particular brand of medicine. But it would have been priced high because of the brand's medicine size and packaging. Here we provide the medicines with equivalent chemical composition at a much lower price," says Prawin.
"Since the medicines directly come from the warehouse of BPPI and are packaged uniformly, the cost becomes very low. All medicines are supplied after they get approval from NABL (National Accreditation Board for Testing and Calibration Laboratories)," he says.
All medicines commonly available at a medical shop are available here.
At No. 3/9, Mari Chetty Street, Mandaveli, Chennai. Open from 9 a.m. to 9 p.m. on all days except Sunday. Ph: 9884441067.