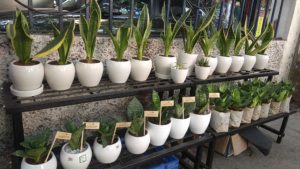 Deepwoods Garden Care, a store that sells indoor plants has recently opened at C. P. Ramaswamy Road in Alwarpet.
The staff of this store are promoting plants off the pavement near Sanginee boutique on this road. A range of snake plants including the saplings of bird's nest are on sale.
Goutham, a staff says, "As these plants are known for purifying the air and improving the humidity, they are best suited in closed environments where ventilation is low."
Goutham says that their business was catering to corporate companies in and around the city. Now, they have gone retail.
At present, the store has only a limited stock of plants. They staff say they would add more plants soon.
The prices of the plants range from Rs 300 to Rs 600.
Address – 2nd floor, Ashwin Apartments, above Sanginee boutique, C.P.Ramaswamy Road, Alwarpet. Ph: 9894268951/7824847744.