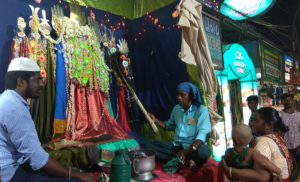 On the eve of Muharram (Sept. 10),this was the scene near a small mosque at Bazaar Road in Mylapore. A pandal with metal structures was erected here.
"In the memory of Hazrat Muhammad Mustafa's grandson, Hazrat Imam Hussain, and others who were martyred in the Battle of Karbala on the tenth day of Muharram, these structures are erected here," said Mohammed Shiek Dayal, who was performing the rituals at the pandal here.
Special rituals and prayers were also performed by the people.