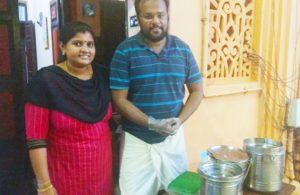 Newlyweds Prashanth and Krithika, who work for different firms have forgone their free time in the evenings to follow their passion.
Two weeks ago, the couple, 90s kids as they would like to be called started selling traditional and homemade snacks off their house on C.P. Koil Street, Mylapore.
Says Prashanth, "The idea was to serve healthy food at affordable prices to the public."
Within a short period of time, the duo has managed to draw many customers. And have got regulars too. Explains Prashanth, "Since the snacks are healthy and can be had on the go, any time of the day many people prefer it."
Prashanth's whole family seems to be very supportive in their new venture. His mother prepares the snacks at their home. "And my father made these colourful display boards on chart papers to diplay the menu," he says pointing to the menu board.
At a small stool outside their house, they now sell sundal (black and white), pidi kozhukattai, and pattani (peas) in the evenings. The snacks are served on banana leaves and then packed with newspaper sheets. One can also choose to get them packed and eat later.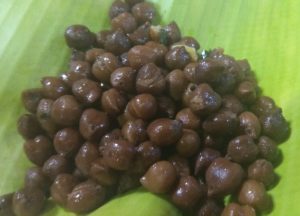 Shopkeepers in the vicinity, temple goers, and shoppers say they find the service useful. Says Padmanabhan, owner of a jewellery store, "We go home only at 11 p.m. and so when we have some sundal it keeps our hunger away."
He says as he buys five sets of sundal for himself and his staff.
However, running this business requires the couple to work round the clock. Says Krithika, "We have got accustomed to this. We feel happy when our customers like our snacks."
The shop is located diagonally opposite Santhosh Thanga Maligai on C. P. Koil Street.
All sundal varieties are priced at Rs.10. Kozhukattai costs Rs 20 for 5 pieces. Open on all days except Sunday. Timings: 5.30 p.m. to 8 p.m. Ph: 9962836436.
The lead for this story came from Baskar Seshadri.