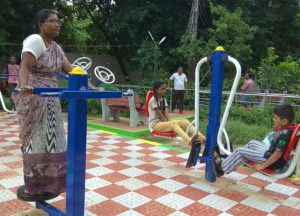 A new, open-air gym has been set up at the public park off Kamarajar Salai, R.A.Puram. Since the past few weeks, Chennai Corporation's contract workers were constructing a platform for this facility.
Now, the area is tiled and fitness equipment, including hip twister, a leg press and more are fixed on it.
In addition, a portion of the walking area, the outer wall and the gate of this park have got a fresh coat of paint. Railings are also laid at the walking areas.
Subbulakshmi, a resident of Narayanaswamy Thotam, R.A.Puram says, "The gym equipment will be very useful for me and many fitness enthusiasts who take a walk at this park especially in the mornings."