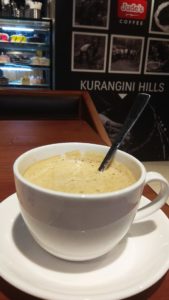 A new music-themed bistro has opened on San Thome High Road, Mylapore. Jude's Bistro is located alongside the wall of St. Bede's Anglo Indian Higher Secondary School.
The cozy cafe with wooden tables and chairs serves Italian cuisine, Continental dishes like pizzas, burgers, pastas, and hot and cold beverages.
Kumaresh is the consultant who helped the proprietor of the bistro Jude Aruldas to set up this cafe. The speciality of the bistro, Kumaresh says is their coffee.
Says Kumaresh, "We source the coffee beans from Jude's coffee estate at Kurangani hills of Tamil Nadu." Classic espresso, cafe mocha, hazelnut cappuccino, Kumbakonam degree coffee are some of the coffee options on their menu.
With a miniature model of guitar hung at its center, the walls of the 15 seater-cafe are made with different pieces of wood.
Soon, diners will also be able to enjoy live music at this cafe. Says Kumaresh, "We have plans to host musicians to perform at our cafe during the weekends and festival season like Christmas."
Snacks including vegetable puffs, donuts, cakes and pastries are also available here. A classic espresso coffee is priced at Rs.125.
Timings: 8 a.m. to 10 p.m. Ph: 94451 66317