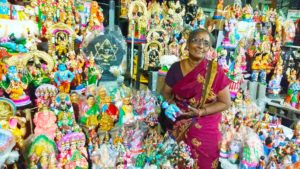 For 50-year-old kolu doll seller Devi, it's not only about selling the dolls. "It's more about meeting new people and having a chat with my regular customers," says Devi, who has been selling kolu dolls in Mylapore for 40 years.
This year, she has put her stall off ICICI bank complex in North Mada Street. Apart from the regular dolls, she has new sets, including one representing Tirupati temple in Andhra Pradesh; Kalyana Krishnan set and more.
Just before the Navarathri season, she says, she along with her husband, Balaiah buy dolls from traditional kolu doll makers of Madurai, Usilampatti and nearby areas.
"And this business goes on for a month till Ayudha pooja. Then, we spend the whole year selling fruits in suburban trains. And most of the days go in business. Rarely, we get time to share and express our thoughts."
Hence, navarathri is the time when Devi gets excited, as she will get a break from her monotonous life. "People talk very briefly, but even if they recognize me, or ask how I'm, it makes me happy, "she says.
However, the business, she says has been low this year. "Clay dolls are gradually fading away," says Devi. She says many people have shifted to buying papier-mache dolls as they are less in weight and easier to transport to foreign countries. Rajeshwari and her husband Ananthakrishnan, shoppers from Anandhapuram in Mylapore agree to it.
"We take loans and invest over two lakhs to buy the dolls. We barely make a profit of Rs. 25,000, and spend the rest of the year repaying it. Similar is the case of most hawkers here," says the resident of Perungalatur in Chennai.
But her regulars continue to buy from her as they believe she has kairasi (luck of hands)."After Navarathri, our wishes get fulfilled if we buy dolls from her, and we believe it's happening because of her kairasi, and goodness in her," says Geeta, one of her regulars from T.Nagar.