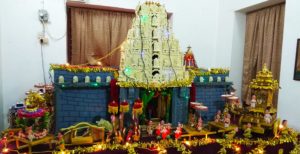 Head to the residence of Visalakshi Nagarajan at West Circular Road, Mandaveli to get a feel of the Brahmotsavam at Tirumala Tirupati Devasthanam in Andhra Pradesh.
She along with her husband Nagarajan, has recreated a scene of this festival as a part of their theme kolu this year.
From the sanctum sanctorum to the 17 vahanams that the deities ride-on the model has a miniature version of all.
"We started building it from the year 2009. Initially, we had only Rathotsavam, then we added 16 kal mandapam, vahanams like mohiniavatharam, thiru ther, garuda vahanam to make it look authentic," she says.
Spread across an area of 8 ft by 8ft, the gopurams are created by wood with intricate works similar to the ones on the temple's gopuram.
"Whenever I and my husband visit the temple, we would note the details on the gopuram. Later, we recreate the same either by ourselves, or we arrange for moulding the clay pieces," she says.
Most of the vahanams, jewellary and other decoration items of the deities have been hand made by Visalakshi.
Every year, she says their kolu theme would be based on a religious place in India.
This year she says many people were very happy to see all the 17 vahanams in their model (shown in picture). "And so we decided to have it for display till next Sunday (Oct 20)," she says.
People who wish to see the model may visit her house is at 46, West Circular Road, Mandaveli. Opposite to police booth. Ph:9940169607.