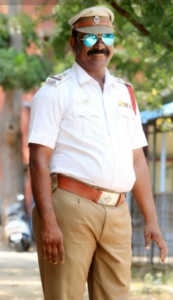 Senior citizens often get a raw deal in this country. Precisely why random acts of kindness are the proverbial silver lining.
A couple of days ago, a Traffic Sub Inspector of Police Sanjeevi, attached to Abiramapuram police station, was in the middle of his breakfast at Sangeetha restaurant in R. A. Puram.
On seeing my 79 year old father A. V. Pinto and the family waiting for an empty table, he greeted the senior with a broad smile and folded hands. In a jiffy, he wolfed down his dosa, got up and offered us his table.
"What about your coffee?" I quizzed him. "No problem, sir. I'll have it outside. You please sit."
For a man whose work keeps him on his feet for pretty much the whole day, to sacrifice his table for an elderly person and his family, came across as a spontaneous reflection of selflessness.
– Report and photo by Sanjay Pinto