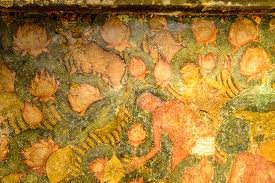 MISCELLANEOUS
TALK: SITTANNAVASAL HERITAGE
A talk on Sittannavasal by R. Gopu is to be held on Oct.5, 5.30 p.m. at Arkay Centre, Luz. Open to all.
The Pudukkottai region in Tamil Nadu has a great Jaina tradition.  Sittannavasal near Pudukkottai has some of the earliest frescoes in South India. The paintings of Sittannavasal, dating to the ninth century in the Pandya kingdom, are of classicism and historical significance comparable to the Buddhist art of Ajanta and Hindu art in Thanjavur Brihadeesvaram. The paintings of Sittannavasal are barely visible now thanks to the ravage of time. The talk will introduce Sittannavasal and its historical monuments, ranging over several centuries, including prehistory.
COMEDY AT THE BAR
SoCo weekend of comedy hosts on Saturday, 7.30 p.m. 'Tale of a Tall Girl' , a musical play set in Chennai, of a tall young woman searching for a husband.  On Sunday, professional comic Daniel Fernandes presents ' Shadows', presenting his five year journey in India and abroad.Ticketed shows. At the Bamboo Bar at Hotel Savera. You can sip on a drink as you lighten yourself. Call 9500028880
SHOPPING
Tüla is a not-for-profit social enterprise that brings to you garments from traditional Indian cottons originally grown by smallholder, rainfed farmers, with the yarn hand spun by skilled khadi workers and colored with natural dyes, with the fabric woven on handlooms by master weavers, with the garments stitched by women and men from economically and socially marginalised groups.
A sale of Tula wear is on from Oct.6 to 8, at C. P. Art Centre hall, Alwarpet.
Mens wear : Half & full sleeve shirts, T-shirt length, short kurtas half and full sleeve, short and long knee length kurtas. Ladies wear: Short, medium & long kurtis, tops, sarees. Unisex Bottoms: Trousers, 3Q Pants, Ankle length pants, yoga pants & palazzos. Handkerchiefs, hand towels, bathtowels, veshti of 4 yards, stoles and kids wear on sale too.
Organic food products also on sale from OFM (Organic Farmers Market) – rice varieties, unpolished millets, pulses, sweets and savories, seeds.
THE ARTS
DRAMA FESTIVAL
T. V. Varadharajen's theatre group United Visuals is celebrating its silver jubilee this year, with plays staged across the city by various theatre groups. A series will be staged at Mylapore  venues from mid-October. Mythological, social, comedy and slapstick, each play will not be repeated. This festival is dedicated to Crazy Mohan and S. V. Sankaran. At Bharatiya Vidya Bhavan, R. R. Sabha, Mylapore Fine Arts Club and Narada Gana Sabha. Free.
MUSIC IN THE PARK
The music of the ongoing Navaratri festival floated around gently in the verdant spaces of Nageswara Rao Park in Luz on Friday morning. A concert, 'mike-less' was underway in the Chess Square zone. 13-year-old Arvind Balaji launched the three-day Navarathri special Kutcheri in the Park organised by Sundaram Finance; this is an annual feature for the season. Arvind was accompanied on the violin by Mugundan Samraj and on the mridangam by Sai Srivats R. Kamath. The concert series continues on the weekend, starting at 7 a.m. and on for an hour.
CHAMBER CONCERT
Musiri Chamber hosts a vocal Carnatic music concert by Aditya Prakash on Oct.6, 4.01 p.m. onwards. It is held in a house, with rasikas asked to sit on the floor. At 28/2, Musiri Subramaniam Road, Mylapore.
SITA AND RAM/ STORY RETOLD
It's the story of Sita and Ram again at this story-telling evening; about them falling in love, losing it and finding redemption. An evening of stories, woven with songs of Tyagaraja, Gulzar and Kabir. Written and performed by Sriram V Ayer and songs by Manjula Ponnapalli. 7 pm, Oct. 5 at CurioPlay, Alwarpet. Ticketed.