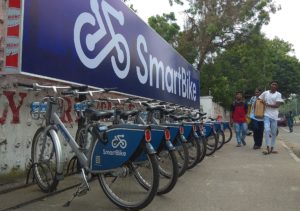 SmartBike, the cycle sharing facility has now come to Dr. Radhakrishnan Salai in Mylapore.
This bike station is located between Chennai Citi Centre shopping mall and C.S.I. Kalyani Multi Speciality Hospital on this road.
The cycle sharing system allows its users to travel from one place to another for a fee.
It was first launched earlier this year as part of the Chennai Corporation's Smart City project.
Within a few days of the station's launch here, people say they find the facility very useful. Says Asirudeen, who works at an office on this road, "I find this facility very useful to travel to nearby places."
However, the bike station doesn't seem to have a security guard. So users fear the cycles could be vandalized.
The smart cycles can be accessed via the SmartBike Mobility App. People who do not have the App may call 26644440.
The facility here will be open from 5 a.m. to 10 p.m. on all days.