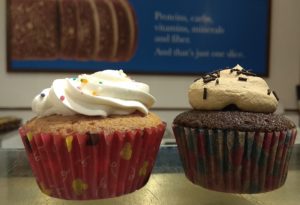 Bright blue walls, smart-design interiors and a number of new delicacies on its menu, French Loaf restaurant is showing off its new avatar. And this is happening at at T.T.K Road, at the south end of Alwarpet (Bejarong restaurant zone).
The store re-opened on Nov.1. This happened following a change in the management. Says a staffer here, "Everything, from the recipes to the techniques of preparation are new. The food is made fresh without the use of any preservatives. The breads are whole-wheat and we have used French techniques to make the cakes and pastries."
Rolls made of fried onion and gun-powder, coffee and Oreo cupcakes, and the mawa cake with pistachio and dried rose petals made in the flavour of Baklava are on top of the menu.
While the Black Forest cake has layers of chocolate, whipped cream and chocolate laced cherries on top a brand new set of classic French baguettes and cookies including, the French butter cookies and the nuts flavoured ones are showcased on the wooden racks. A kilo of Black Forest cake is priced at Rs 944.
You cannot miss out on the ice-cream stick that is named 'I'm Confused' – this is specially curated for people who tend to get confused while choosing a cake from the available options.
"The trimmings of different cakes are layered with choco truffle cream and later dipped in chocolate to make this one," says a staffer. "The taste will be unique every day."
The store also offers a variety of coffee options. Its blend is sourced from a local coffee brand called Beachville.
At 146, T.T. K. Road, Alwarpet. Open from 8 a.m. to 11 p.m. Ph: 76049 15071