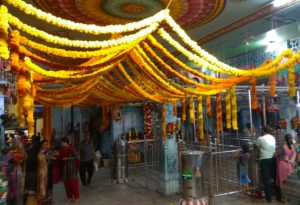 This evening (Dec.31), elaborate arrangements were on at the local temples in Mylapore for the New Year celebrations.
From 5 p.m., devotees were seen queuing outside Sri Saibaba temple in Venkatesa Agraharam Road to get tickets for shangu abhishekam that was to take place at 7 p.m.
"The abhishekam will go on till late night, " said Jayanti, a resident of Mylapore.
At Sri Mundagakanni Amman temple men had decorated the temple with bright orange samanti flowers. The temple staff also tied fruits including grapes, orange, jackfruit in bunches. They were to be decorated at the roof in front of moolavar sannidhi.
Said Krishnamurthy, the manager at the temple, "After the rituals, we will distribute the fruits to the devotees and donors who contributed for the celebration."
At Sri Kapali temple, wooden rods were tied to streamline queues. While devotees can get free darshan from 4 a.m., people can choose to buy Rs. 50 or Rs. 100 special entrance tickets at the temple to get a faster entry. A special ghee abhishekam will take place for Sri Kapaleeswarar in the morning.
Picture shows decoration at Sri Mundagakanni Amman temple