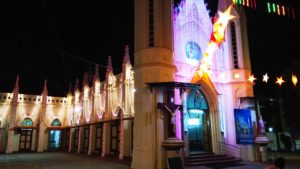 On Dec 23 evening, the spirit of Christmas was prominent in various parts of Mylapore.
The houses in front of Our Lady of Guidance Church in R.A.Puram were lit with stars and Christmas trees, that looked magical at night. At every house, people had also set up a crib that represented the nativity scene.
Inside the Church, men were putting up a grand crib at the stage. The campus was being decorated with a row of stars and colourful serial lights.
Elsewhere at Kuilthotam, a TN slum board colony off San Thome High Road, the youngsters have put up a crib and a Christmas tree.  They are illuminated by green light. "Every year, around 10 youngsters of our colony pool in money to set up a different crib. This time, we also painted a rangoli outside the manhole camber in front of the crib," said Thiyagu, a resident of the area.