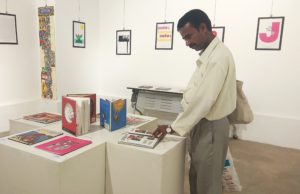 Thiruvanmiyur based publishing house Tara Books has curated an exhibition and sale of its books at the InKo center at Adyar Club Gate Road, Mylapore.
Called 'The Book and the Arts: A Publishing Journey' the event has been organized to commemorate the 25 th anniversary of Tara Books.
The team at Tara, work with writers, designers, and bookmakers to publish illustrated books for children and adults.
On display at the exhibition are 26 posters corresponding to the books chosen by each member at Tara Books.
Said V. Geeta of Tara Books, "The posters convey the story of the book or a feature of it just using the shape of words or typography. They are set to type by designer Rathna Ramanathan. She has worked with Chennai-based designer Shiva Nalla Perumal to create these images."
Picture books for children, and one representing Besant Nagar beach at different times of the day are some of the books exhibited here.
Some of Tara's books published by Korean publishers are also kept for display.
The exhibition will be on at the InKo center till January 20, 2020. From 10 a.m. to 6 p.m on all days except Sunday. At 18, Adyar Club Gate Road, Mylapore. Ph: 24361224.
Tara Books is located at 9, Kuppam Beach Rd, CGE Housing Colony, Thiruvanmiyur. Ph: 42601033