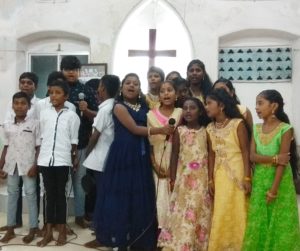 This evening, St. Luke's Church in R.K.Mutt Road, Mandaveli organized a Christmas programme at its old campus in Mandaveli Lane.
Underprivileged students who are being given free tuitions here sang Christmas carols and presented a dance.
Rev. Fr. Clement Jayanthi Rajan, pastor in charge here gave the Christmas message and distributed dresses and food to the children.
The decorated church campus at R. K. Mutt Road looked magical with colourful serial lights and stars.