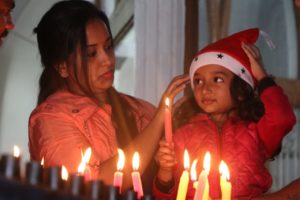 If there was one area which was soaking in the Christmas spirit early as the clock moved to the midnight hour on December 24 it was the San Thome Cathedral zone.
Even as the rush hour traffic dropped past 9 p.m., church-goers were filling the seats for the open-air Christmas eve Mass at the cathedral campus. It has rained earlier in the day and the weather looked iffy but the priests decided to go on with the Mass in the open.
The English Mass began at 9.30 p.m. with the choir singing carols and hymns. A shade after 11, the Thamizh Mass began and here, the main celebrant was archbishop Rev. Dr. George Antonysamy who gave his Christmas message during the sermon. He later cut a giant cake and pieces of the cake were shared with the congregation.
By then, people dressed in Santa caps were into party mode; they greeted friends on the church campus and some had a fellowship at home.
The churches down the main road – CSI St Thomas English Church and CSI St. Thomas Tamil Church – were richly illuminated and at night, the Christmas services were held here.
Further down, youth had got a lovely crib readied on the church campus stage at Our Lady of Guidance Church on Lazarus Church Road as people streamed in for the night Mass here. And giant illumination of a Christmas tree caught the eye as Mass began at Our Lady of the Visitation Church on St. Mary's Road.